This Centre/Campsite is available to all sections of Scout & Guides and other organized groups. The Centre/Campsite is also available for all organization meetings and training events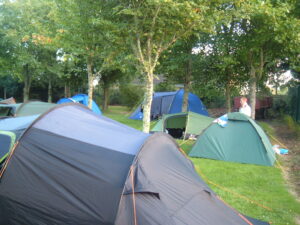 Knockingall Organisation Community Centre CLG.(KOCC) (incorporating Piercestown Scout & Guide Groups) is one of the best serviced site/facility in south Co Wexford for local, National and International groups wishing to explore Co Wexford and its areas of interest.
The entire facility is an ideal base for hiking, hill walking, water activities, pioneering, backwoods and much more and is only 10 miles approx. from the nearby Outdoor Adventure Centre IOAC in Tagoat, Co Wexford. Our Centre was completed in 2010 and has since been upgraded through grant funding help from Wexford Local Development, Wexford Co Council, Scouting and Guiding Ireland, local fundraising groups, business donations, local Councillors, Pobal and lotto funding. Thank you to everyone who helped make this possible.
The site is situated in the Village of Piercestown Y35 EP2V(with Bus route to Wexford, Rosslare, Kilmore) it is just a few minutes walk from local Londis Supermarket which includes full butcher service Hot and Cold Deli, beside the local R.C. Church.
---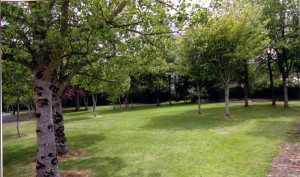 Visiting Groups
All Groups using our site must bring A. Acopy of their own insurance B. their own First Aid Kits. Each group must have a registered First Aider who will be available to treat all minor incidents. Any incidents must be reported to the Warden on duty/Adminsitration on duty and produce a copy of the Accident Report from which should be forwarded in case of Scouting Ireland to their Head Office in Dublin. Where required medical advice can be sought from local Doctors (Hooper Medical Centre 053 91 42202 Rathaspeck/ Dr Shane Kavanagh Whiterock Surgery 053 91 60070 or CareDoc 1850 334 999. Pharmacy in Village next door to Londis Supermarket
It is upto each group Leader in Charge to ensure that all their group members have a fully completed activities consent form (Scouting Ireland requirement) for the duration of the stay. All Groups on booking must present a copy of the Insurance Indemnity Form from their own National Body/Organisation on arrival at the site.
---
Camp Fees
The Centre / Campsite is in the centre of Piercestown Village Co Wexford is available for overnight camping at €6.00 pppnight / this includes lighting, heating, water and electricity charges, Rubbish disposal and use of showers. At this time we are not increasing this rate. A booking deposit of €50 per group is required once booking has been confirmed. All groups are required to pay full fees on arrival at the Centre. Cheques made payable to 'Knockingall Organisation Community Centre'. EFT payments can be organized where requested.
All income will be used for improvement and development of this Centre.
Thank you for visiting our Centre and for taking care of the facility during your stay, please leave it in a clean condition so others may enjoy it too.
---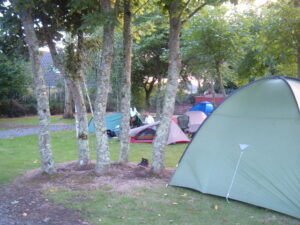 If you have enjoyed your visit, tell others, if not, please tell us.
We ask all groups visiting the Centre/Campsite to follow our Recycling and Waste Management Policy as set out in the information and Rules booklet as set out on our site.
Thank you and we look forward to seeing you back again soon.