---
Knockingall Community Centre CLG. was established in 2008 to provide a centre to cater for the future needs of the community of Piercestown and beyond. The ETHOS of the centre is to continue to improve its services and provide a facility which provides the space , equipment and facilities for a wide range of users.
As a board we have worked hard to develop the centre into a facility that caters for a wide range of activities and uses. We have both indoor and outdoor facilities and equipment to suit , Voluteer, Community and Professional groups who wish to carry out their activites in a warm , friendly and cost effective environoment.
Indoor:
2 Large meeting / training rooms. Each room/ has Velux Windows to allow the maximum light through. Heating if required is from eletric overhead panel heaters and we also provide instant gas heating to prewarm the rooms prior to meetings or training.
Both rooms are fitted with modern sound and visual equipment. The rooms have Speakers / Pull Down Screens / Overhead Projectors / Microphones : Hand Held / Stand and Head Control Panels for sound in each room . Computers are available on request . We also have Flip Charts available. We do not have Wi-Fi in the centre and we advise people bring their own dongle or plug in stick. Photocopier is also available on request.
Kitchen:
There is a fully fitted kitchen ( which was upgraded in 2020) it includes Fridge Freezer / Microwave/ Coffee Machine/ Diswasher/ Eyelevel Double Oven / Gas Hob/ Toasters/ Water Boilers/ Vacuum Flasks/ Presses and Large deep drawers/ Cooking utensils/ Delph and Cutlery/ Serving Trolly on Wheels.
Utility Room:
Consists of Washing Machine / Dryer / Hoover / Brushes and Dust Pans./ Mops & Buckets.
Showers / Toilets:
2 Showers with instant hot water. ( Gas heating system installed 2021)
I Disability Toilet with Electric Shower
2 Standard Toilets, one is off the main room and one off the smaller room.
Chairs and Tables:
Padded chairs are availabe also large tables with laminated tops and smaller tables with laminated tops.( Ideal for Training and Group / Social events.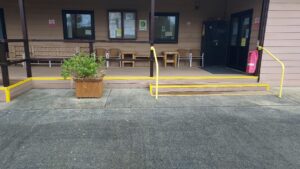 Veranda / Decking Area:
At the entrance to the main building there is a Veranda/ Decking area which has seating , some seating have small table attachments to hold you cup of coffee or your training files while you drink you coffee!
Outside:
The building and grounds are enclosed by a high chain link fence, and for security there is only one entrance to the centre which can open for pedestrians only or fully opened to allow cars/delivery vans etc.
The Grounds of the Centre consist of a large grass area which has various types of trees growing around it. The entrance to the centre has a concrete surface.
The Grass area is ideal for camping, exercising, keep fit , games and BBQ. The concrete area allows the centre users to bring in their trailers, cars and vans with their equipment. a very relaxing atmosphere permeates the entire site.
Outdoor lighting around the perimeter is also installed, with instant security lighting all around the building. There are 6 picnic/table benches and 4 wooden garden seats for outside use.
Outside there is a specifically brick built BBQ area, also a cordoned of campfire area for use by Scout/Guides or other groups.
There is a handwash sink at the Gable end wall at entry and on other side of building there is a double sink for campers to rinse and wash up their utensils while camping at the site. There are a recycling bin and rubbish bins (large) which can be used by the campers and other users.
Overnight Camping or longer can be booked on our booking form or by contacting the Phone No's. listed.
We also cater for Children / Adult Parties : Training days / Weekends for Professional / Community Groups / Scouts & Guides ( equipment available in centre)
Should you need catering sevices for your training days/ weekends this can be done by our local Londis Centre situated 5Mins, from the centre The wardens will be available to help you with this.