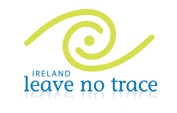 The Leave No Trace programme is designed to help outdoor enthusiasts value the natural environment, to understand the impact of their activities, and to enable them to make decisions to minimise that impact while still enjoying their activities with freedom.
We must do more than just pick up the litter and extinguish campfires.
The Seven Principles of Leave No Trace
1. Plan Ahead and Prepare
2. Be Considerate of Others
3. Respect Farm Animals and Wildlife
4. Travel and Camp on Durable Ground
5. Leave What You Find
6. Dispose of Waste Properly
7. Minimise the Effects of Fire
Practising a Leave No Trace ethic is very simple: Make it hard for others to see or hear you and LEAVE NO TRACE of your visit.
To download a copy of the official Leave No Trace leaflet click leaf Below